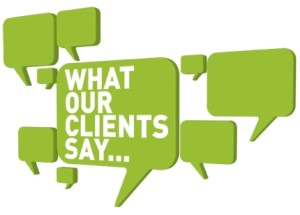 We are delighted that clients are able to say some nice things about us and we say "Thank you" to all. We appreciate your feedback.
Please click the 'Create Your Own Review' button below if you would like to add your feedback.
Average rating:
26 reviews
Feb 17, 2018
Great website thank you
I am really pleased with my website that Julia has built for me. I am the type of person that needs to sit down with someone to go through what content I wanted to include and Julia was great for helping me with that. Julia was very patient and helpful and I would definitely recommend her.I have had a lot of compliments about my website and more importantly lots of business through it.Thank you Julia
Mar 1, 2017
New Website Highly Recommended
Julia did a fantastic job at updating my website. She took the time to find out what I wanted, explaining what was and wasn't possible, as well as showing me how to amend the website should I need to in the future. Not only do I have an amazing looking website and I have learnt alot too. Highly recommended, thank you again.
Feb 14, 2017
Efficient & Friendly - Strongly Recommend
Great service, understood our needs precisely. Julia is very helpful, friendly and professional. Would strongly recommend.
Feb 14, 2017
Fantastic Service
I contacted Julia when I was disappointed with the lack of support and expertise that I was not getting from my previous web design company. After our first visit, I had learned so much information in those first few hours than I ever had with my previous web company. I feel very positive that my website is in much better hands and I would recommend JG Digital to everyone.
Apr 13, 2016
Professional and very knowledgeable
I contacted Julia because I have been having some problems with my WordPress site and after our first meeting yesterday I came away knowing that I was in safe hands.Her experience and knowledge enabled her to pick up on all of the issues (and more) that I had been struggling with and her follow-up notes, received only a few hours after our meeting, were incredibly thorough. I hadn't realised just how much we had covered in our four-hour meeting.I am really looking forward to working with Julia. With her help my website has every chance of being a true success.
Jan 25, 2016
Delighted the website comes up with the SEO
Thank you very much for your work on my website! It is looking fabulous! I am delighted that the website comes up with the SEO, so thank you!
Nov 24, 2015
Great Service!
Julia created a new WordPress website which is so easy to update, amend and add new info as needed, it's mobile friendly and easy to navigate. It will send me an email with information regularly of any problems or updates for me to deal with. It also looks great, we love it. Thanks so much Julia 🙂
Nov 24, 2015
a website that has exceeded my expectations
Thank you, Julia, for a website that has exceeded my expectations. It looks great and does what I want it to.It took us a year from first discussion to final product but I never felt rushed into settling for something I wasn't happy with. When I was mithering or just too busy running a business, Julia carried on with her other commissions and came back to my website as soon as she could. Coping with books sold in six different currencies and printed in three different countries stretched the e-commerce plugin to its limits. My, sometimes unreasonable, ideas for what the site should do were never dismissed out of hand, instead Julia looked for a way to tweak the software, or tried to find another plugin that would do that or suggested another way of solving the problem.
Nov 20, 2015
Fantastic job
Thanks to Julia, our charity, Himalayan Children, now has a professional looking website that is easy to update and maintain. Our old website had become disorganised and tired-looking and was difficult to update. Julia built the new website then passed it over to us after a comprehensive training session during which she showed great patience and expertise! We are now able to add and amend pages with ease. Would highly recommend.
Oct 30, 2015
Great help from Julia
Went to Julia to learn hints and tricks about the back end of a few websites I manage in order to improve my knowledge and provide a better service to my clients. Julia was really patient and knowledgeable and explained things in a calm and easy to understand manner..less jargon, more learning! Thank you.
Jun 17, 2015
Professional & Personal service
JG Digital provided a professional and personal web design service. This was my first website build and Julia explained the process at every stage and taught me how to administer the site and optimise the SEO's in order to generate traffic to my site.
Thank you for your support and guidance.
Feb 5, 2015
Highly recommended
A great service tailored to my specific needs Highly recommended!
Dec 19, 2014
Great help
Thank you so much for ALL your help - I feel so much better now knowing that my website is all nice and tidy, works properly and can be seen on mobiles. I appreciated the fact that I actually understood what you were saying and didn't blind me with technical speak! After looking around for someone who actually had great customer service and was friendly I am so glad I found you! Thanks again and look forward to a long working relationship.
Sep 2, 2014
Excellent Job
Julia applied a professional and pragmatic approach to the upgrading of our website. She took the time to fully understand what we wished to achieve and was able to easily transfer content to the brand new website without losing the style we have built over the years. It will be a pleasure to totally recommend her to you. Additionally, when we had a major hosting problem, Julia was there and saved the day (and my sanity)!
Jun 24, 2014
Great upgrade!
Thank you Julia for the upgrade on our site, it is just what we needed and we appreciated all the effort you have put in!
Jun 16, 2014
Really pleased...
Julia has done a fabulous job developing a new website for me. She took the time to get to understand the business and what my clients would need from my website. She has brought lots of ideas to the development and created a website that I'm really proud of at an affordable price.
Jun 12, 2014
Thank you
Thank you Julia for all your hard work updating the floatron UK site. It looks so much more professional and we have already had compliments from our customers. Thank you also for all your patience and help over the phone teaching me how to update & change things easily.
Jun 11, 2014
Fabulous website!
I would like to thank Julia Giles of JG Digital for her fabulous work on both of my web sites. Julia was able to take over and advance my www.bowen-hampshire.co.uk web site that I had started and then she worked on complimenting it with my www.harmony-therapies.com web site. As I am a compete novice, Julia was very professional and patient guiding me to make choices for both web sites. I am extremely pleased with the results and would definitely recommend Julia to anyone.
Angela Anderson
May 6, 2014
A BIG THANK YOU
Julia, thank you for creating such a fabulous website for my art. As a total techno numpty you have guided me throughout and I am unusually very confident in what I need to do and how to keep things fresh and relevant. Wonderful stuff!
Apr 3, 2014
Great web designer
Julia will give you what you want because she knows how to do it! She also gives a very high level of customer service during and after. I will definitely use her again.